The state government's initiative to add value to sabai grass, a natural fibre abundantly grown in tribal-dominated Mayurbhanj district, has finally began to pay dividends.
The usage of the grass, locally known bobei ghasa, was earlier confined mainly to rope-making. But now, its use has diversified into the process of making of various craft items after women workers, mostly belonging to tribal communities, were imparted special training for the purpose.
The grass is mainly grown in Baripada and Kaptipada revenue sub-division of Mayurbhanj and harvested between November and June. The district's annual sabai production is estimated about 20,000 metric tonnes, which fetches about Rs 300 crore.
Mayurbhanj district collector Rajesh Prabhakar Patil said: "After adopting multi-pronged approaches, the women workers have now found an uplift in their status."
"Not only are these women empowered financially and socially with group activities, their products have also gained appreciation from far and wide. The next target is to encourage local tribal communities to grow the grass in barren and waste lands," he said.
( Reference : https://www.telegraphindia.com/states/odisha/sabai-grass-industry-reinvents-itself/cid/1504956 )
A master craftsman, Debahala has been earning his livelihood from bamboo baskets for over five decades. He now teaches others how to weave with bamboo and says that he can replicate a pattern once he has touched it. "I weave different types of bamboo baskets, fish traps, chicken coops and cane stools. I also tie sticks together and make brooms. I know almost every type of weaving technique." From the toloi basket to the hulo, hallong, dulo andhaza, Debahala can make them all.
"I have four sons and one daughter. All the sons got married before they turned 18 and now live separately from us," says Debahala. The family's income is modest – Debahala earns around Rs. 4,000 a month by selling baskets in the local markets. His wife Chandramala, 59, works on the family's farm plot, and their 24-year-old daughter Jayalalita works as a daily wage agricultural labourer.
Even though he lost his sight early, Debahala has maintained his mobility. He often walks to the village market and to places near and far by himself, with the aid of a walking stick. And, when necessary, he says he also lifts and carries, over a distance, heavy sacks of rice or firewood if he is with a family member. "When I was young I could sense the light, especially sunlight during the day," he says. "but with advancing age, I am losing that sense."
Despite his expertise in working with bamboo, he says off-screen that he never felt his talent was extraordinary and neither was he ever praised for it.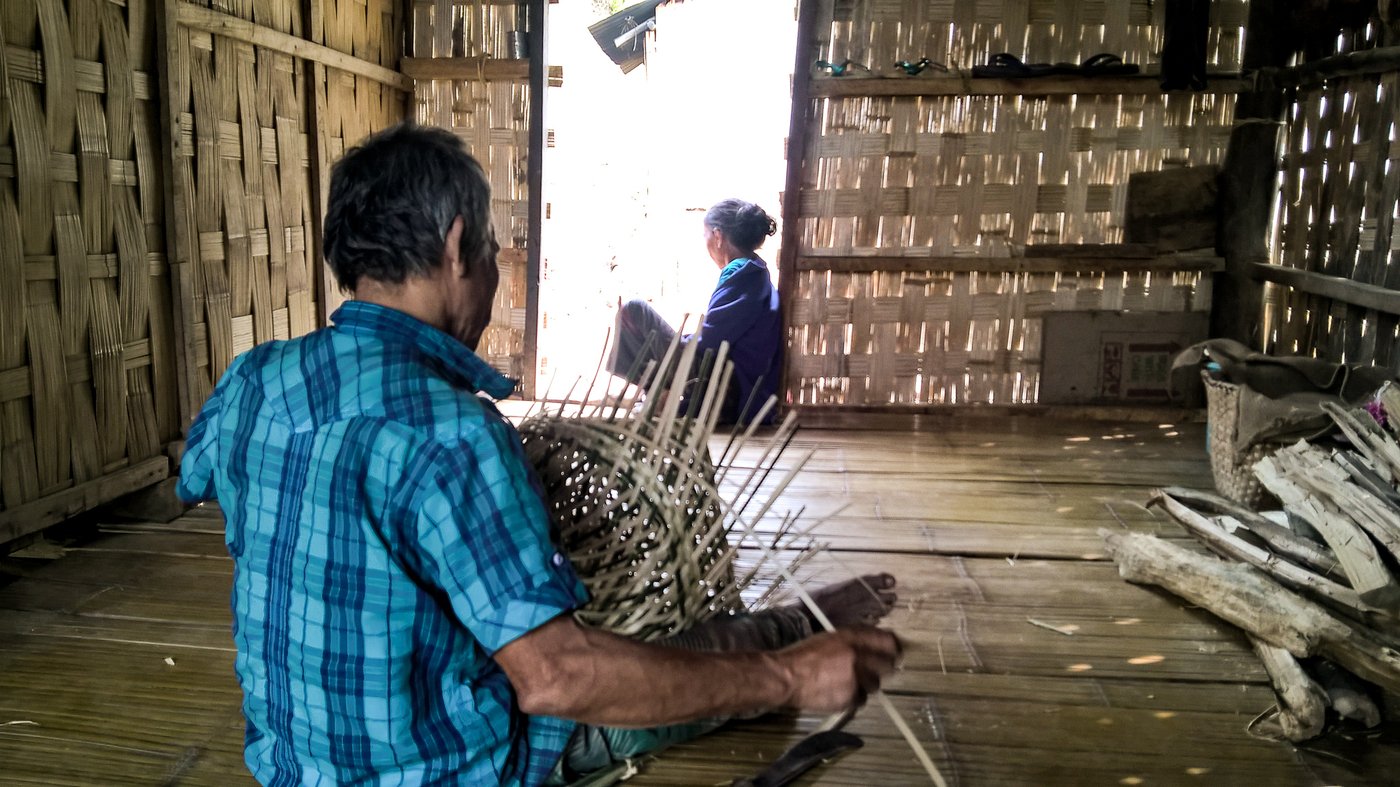 PHOTO • LOKESH CHAKMA
( reference : https://ruralindiaonline.org/articles/baskets-made-with-a-different-vision/)